January 2021 - Happy New Year!
Drive-Thru Cookies with Santa
Our outdoor Drive-Thru Cookies with Santa was a huge success! Thank you to Gina Demma Junghans '86 for baking over 200 cookies for this event and to Anne Pijar Depman '87 and her daughter, Eileen Depman '23, for volunteering their time. A special thank you to SANTA (Michael Bean, father of Melissa Bean '12).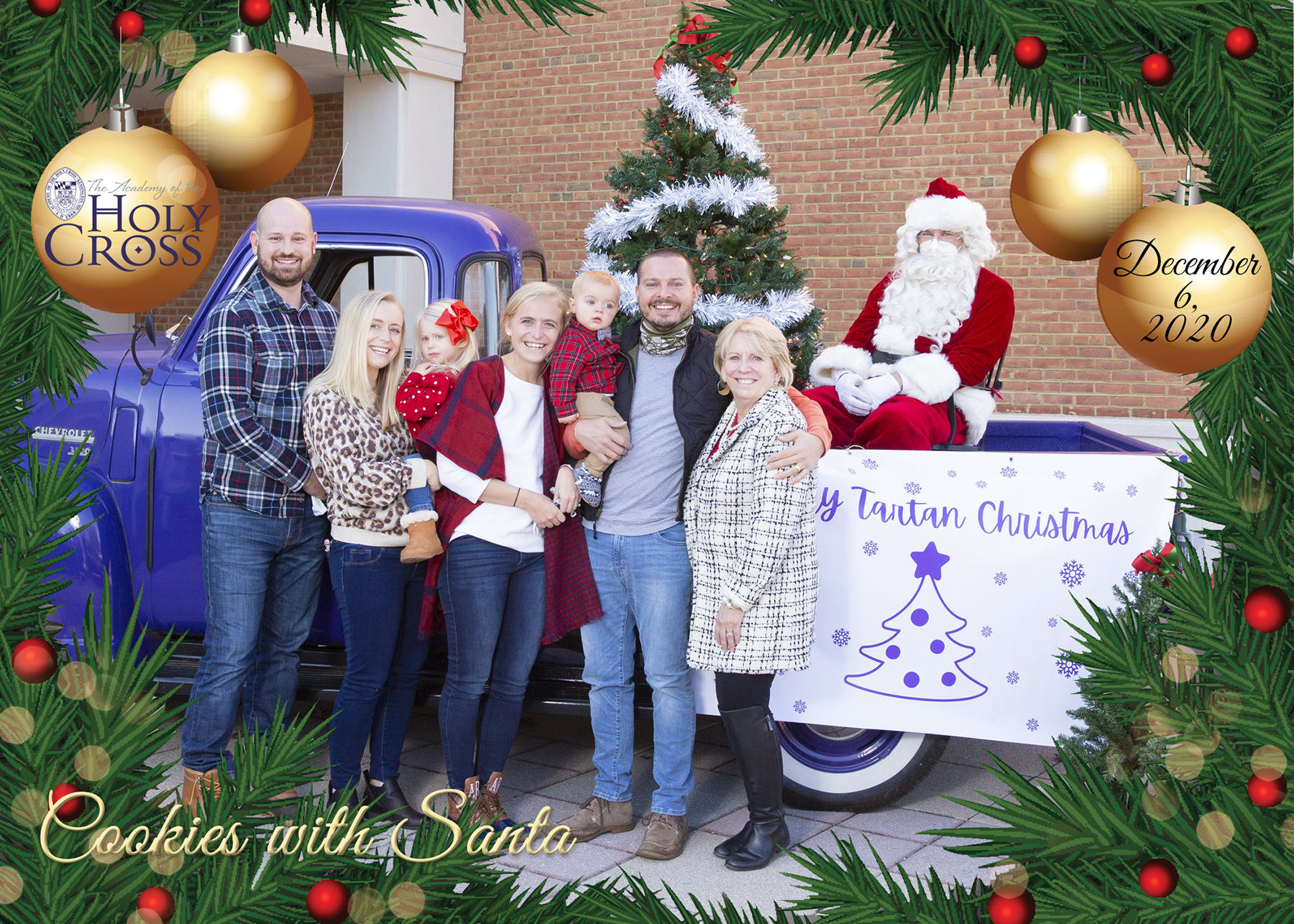 It's coming up soon... the 2021 Virtual Benefit Auction
Join us virtually on March 20, 2021 for our TARTAN MADNESS Auction! This is the school's largest fundraising event of the year and we want YOU to get in the game. How can you help make this year's auction a success? Here are some easy ways to support this important event…
Visit the TARTAN MADNESS website for more information about this exciting event and how you can help make this One Shining Moment for Holy Cross!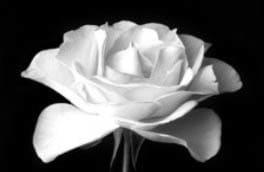 Virtual Alumnae Memorial Mass

Sunday, February 28 at 10:00 am broadcast from The Academy of the Holy Cross Chapel on the Holy Cross YouTube Channel.

Join us to remember alumnae, former faculty/staff, and Holy Cross community family members who have passed away this last year. If you need to make an addition to our deceased alumnae or deceased family and friends list, please let us know by Friday, February 5. If you have any questions, please contact Kathleen Bula at kbula@academyoftheholycross.org or (301) 929-6463.
Thank You!
Happy New Year! Please accept our heartfelt thank you, our Holy Cross Alumnae, for your generosity of spirit, and your support of the Academy which are true blessings. Please know that every gift – large and small – makes a difference to our students. We could not do what we do without you. Wishing you many blessings in 2021!
For more information about donating to the 2020–21 Holy Cross Fund, visit our FAQ or contact Becky Mulholland, Director of Annual Giving, at rmulholland@academyoftheholycross.org.
2021 Senior Project Sponsor Request
Since 1973 students have participated in the Senior Project internship – a unique opportunity for our seniors to work in a career setting that interests them. Seniors enjoy internships at numerous organizations and businesses in fields such as medicine, education, engineering, law, communications, marketing, social work, journalism, and many others.
Sadly, the pandemic caused Senior Project to be cancelled for the Class of 2020. This year, with continued uncertainty as to how businesses and lives will continue to be affected by COVID-19, Senior Project 2021 will include both traditional and remote internship opportunities. As businesses and organizations have all learned to adapt to a workplace including virtual formats, we are extending that opportunity to our seniors.
This exciting twist allows the Class of 2021 to reach out across the world wide web to connect to a sponsor who might share projects and opportunities remotely for completion of the Senior Project. This year's project timeline is from May 10-28, 2021.
Holy Cross relies on community sponsors to provide internships for our seniors. An alum makes a great sponsor! We are always seeking potential sites for our students. This year especially, if you are outside the DMV area and would like to be a part of this wonderful tradition, please let us know. If you are interested in sponsoring one of our seniors, please contact Marissa Mills, Senior Project Coordinator, at mmills@academyoftheholycross.org or (301) 929-6444.
Athletic Hall of Fame Nominations Are Now Open

Mission Statement: The Academy of the Holy Cross is proud to recognize and honor outstanding individuals and/or teams who have accomplished extraordinary athletic achievements.

Nominations:
An individual and/or team possessing the qualifications noted above may be nominated by completing the official Academy of the Holy Cross Athletics Hall of Fame nomination form. Nominations of candidates for entry into the Hall of Fame shall be considered indefinitely. Nomination forms must be submitted by January 29, 2021.
Distinguished Alumnae Nominations Are Now Open

The Distinguished Alumnae Awards are bestowed upon alumnae who have distinguished themselves by giving witness to the mission of The Academy of the Holy Cross and exhibiting the ideals of an alumna of the Academy in their daily lives.

Recipients of this award:

Demonstrate the characteristics of a graduate of the Academy, by being women of courage, compassion, and scholarship.

Demonstrate unusual professional or personal accomplishments that embrace the social, spiritual, and intellectual challenges of the world.

Distinguish themselves as caring, Christian women.



All nominations, once submitted, are kept on file from year to year. The quality of the criteria, not the volume of nominating criteria submitted, is the priority consideration for award selection.

Submission Deadline is January 29, 2021.
Tartan Roll Call!
In this time of virtual communications, it is more important than ever that we have your correct contact information. Please take a moment to make sure that we have your current phone number(s), and email and street addresses. We love to hear from our alumnae!
Do you have some good news to share with your classmates? We want to hear from you! Let us know about your weddings, babies, travels, awards, job changes, etc., and we will include your news, if you wish, in our monthly Alumnae eNewsletter and in the Alumnae Class Notes section of an upcoming Tartan magazine. Email your updates and pictures (high-resolution JPEG format) to alumnae@academyoftheholycross.org.
Alumnae News
1948
Patricia De La Vergne Quinn writes that "We don't go far from home – an occasional drive. Be glad to see 2021 – it's got to get better eventually."
1955
"Married for 60 years to my husband, Gerry," writes Barbara Benford Trafficanda. "We have 22 grandchildren, six children and 3-1/2 greats. We live in a retirement community outside of San Juan Capistrano. My twin, Betty Benford Belfiore resides in Venice, FL. Betty was widowed last December. She has a granddaughter at the Academy. Her name is Isabella Belfiore Hollcraft '22."
2005
Congratulations to Eileen Whelan and her husband, Derek, on the birth of their son Charles (Charlie) Frederick Biss on December 19, 2020. "He was born 3 weeks early, but the best Christmas surprise/present!"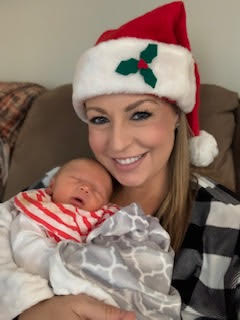 2010
Kathryn Cecere writes that she is in her "second year of foot and ankle surgical residency at UF Health – Jacksonville."
2011
Kathleen Wills was sworn in as an attorney before the Maryland Court of Appeals on December 18, 2020. As a former researcher and protocol coordinator at the National Institute of Mental Health, Kathleen uses her industry experience in her current practice of patent litigation in Washington, D.C. She also recently published her first book, Faye in the City: With Her Dog Puffy a young adult fiction and fantasy novel that takes place in D.C. Visit her website at https://kewillsbooks.wordpress.com.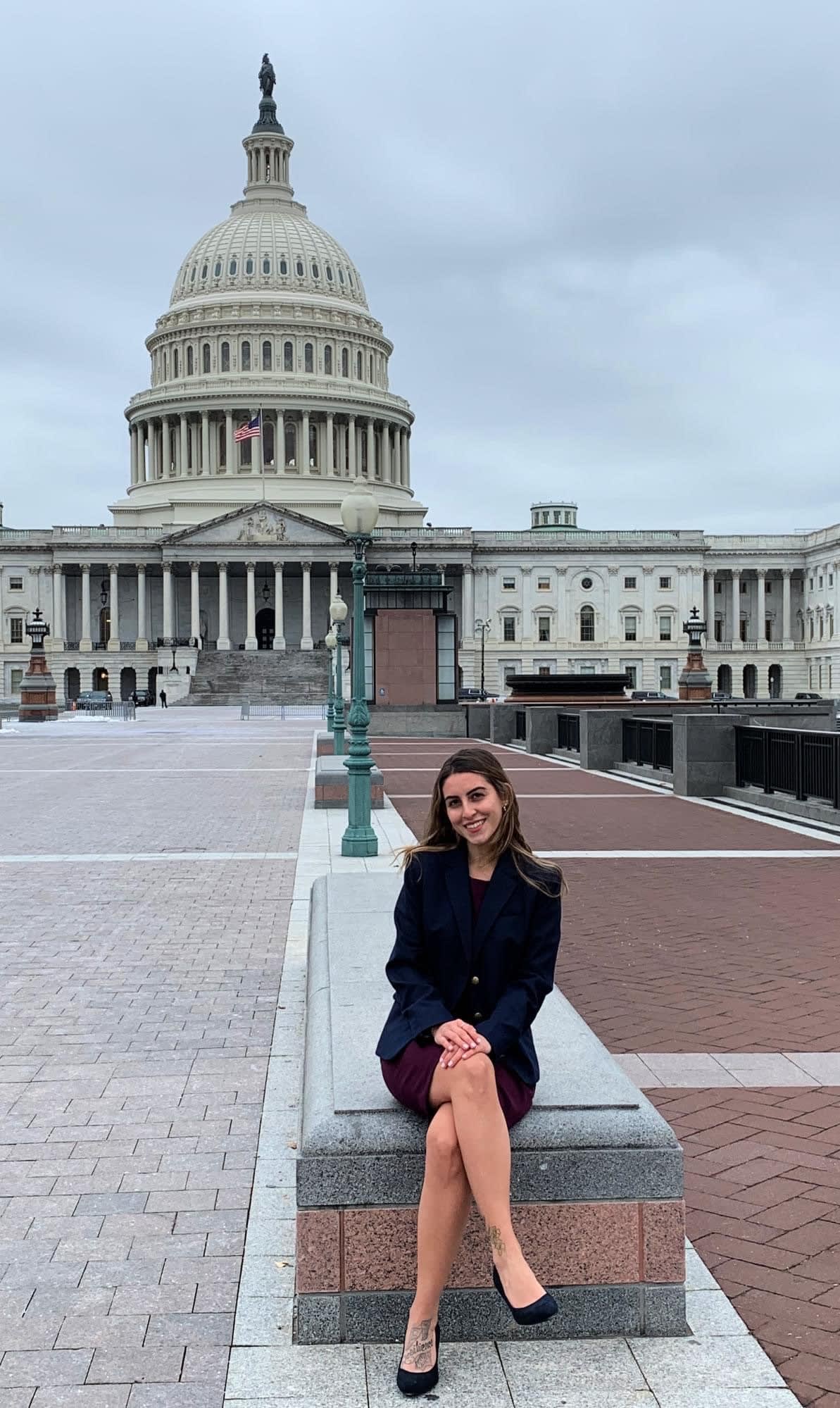 2012
Mary Kate Bula will be playing flag football for the USA National Team in Copenhagen, Denmark in May of 2021 and in Palma, Spain in October of 2021. Mary Kate has been playing flag football since grade school and began playing competitively in college and was added to the USA National Team on December 2, 2020. She plays wide receiver, defensive back and sometimes, quarterback. Mary Kate noted that she is "honored and humbled to receive the opportunity to play the sport I love for the USA. Spain, here we come!"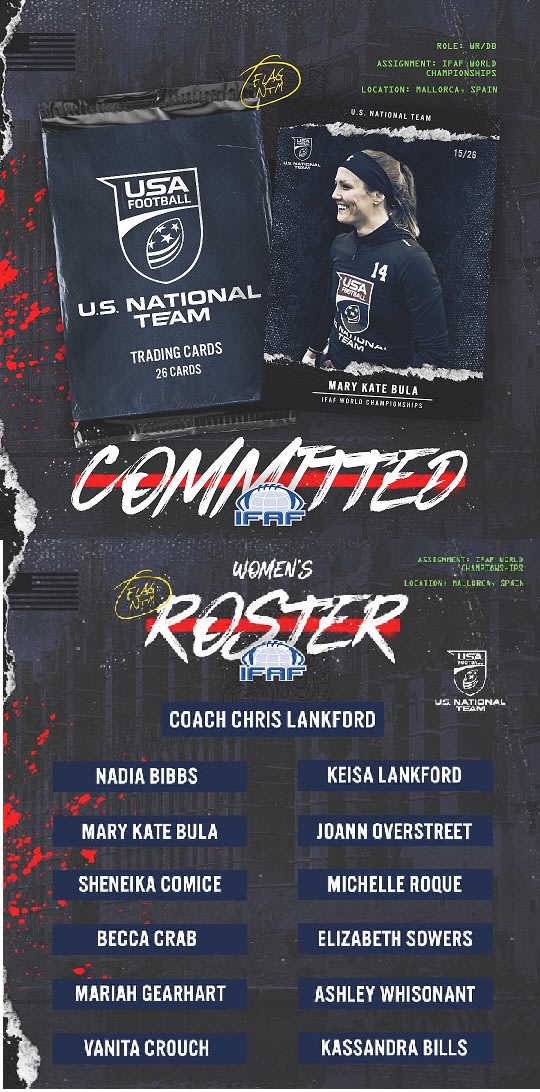 Christine Clark married Pedro Paz on December 19, 2020 at Our Lady of Mercy Catholic Church in Potomac, MD. Father Paul Dressler was the celebrant. Their family and closest friends were able to join them via zoom or by socially distancing and masks! The new Mr. and Mrs. Paz celebrated with their immediate family and bridal party for dinner afterwards at Pinstripes in Georgetown, D.C. "Our make-up was done by a Holy Cross alumna, and seven of my eight bridesmaids are Tartans! Plus, my mom is Kathleen Burgess Clark '82."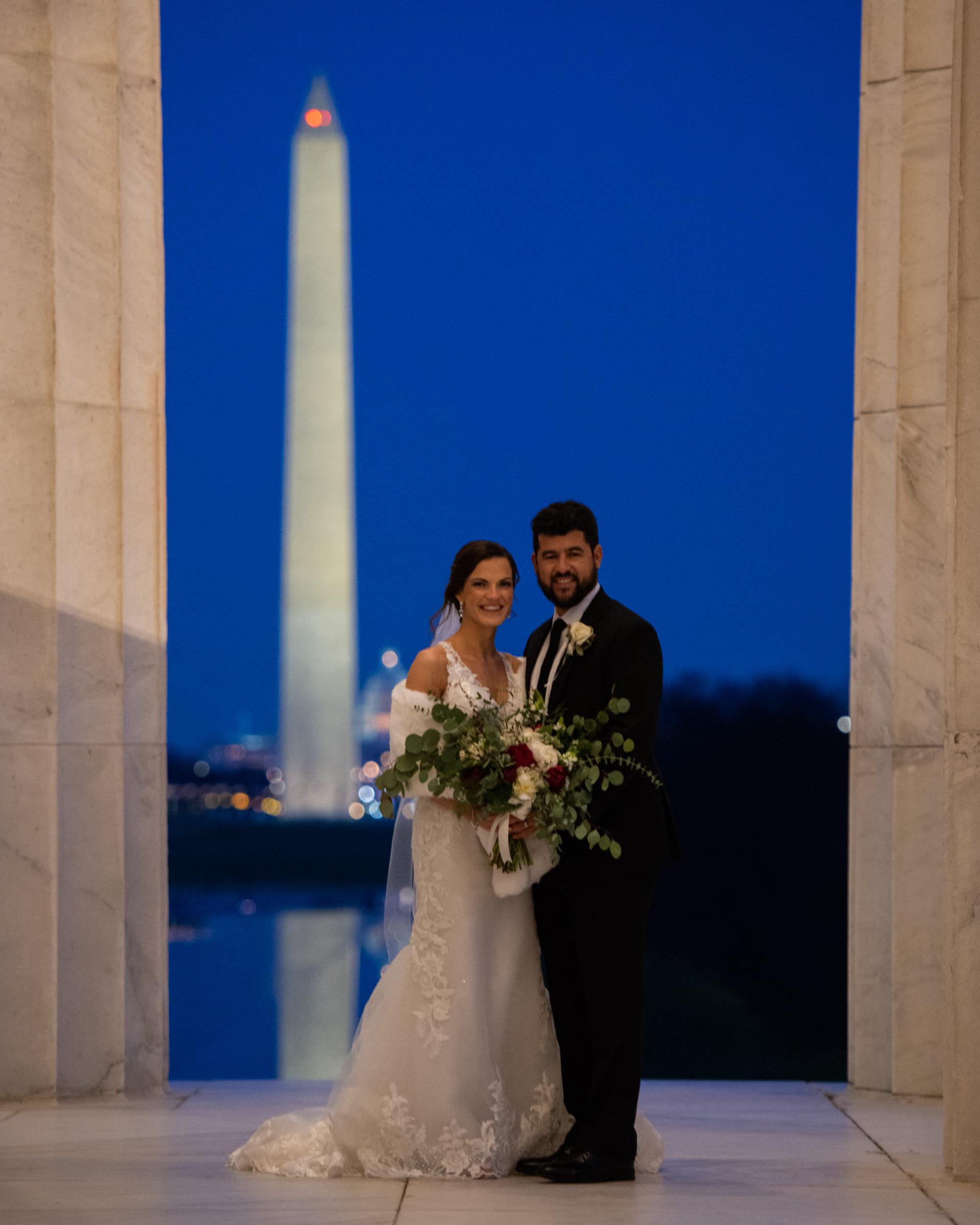 2017
Melissa Coaxum graduated from the University of Maryland, Baltimore Campus on December 17, 2020 and received a BA in Public Health with a minor in music.
Julia Urban was part of a team at William & Mary that earned high honors in the world's largest synthetic biology competition for engineering a potential COVID-19 therapeutic. Julia co-captained the team of 10 students that earned a Gold Medal and two top awards for Best Therapeutics Project and Best Model at the iGEM 2020 Virtual Giant Jamboree (iGEM stands for International Genetically Engineered Machine). The team competed against 249 other universities around the world. Julia is in the W&M Class of 2020 graduating a semester early.
Here is the article: W&M Covid research
2018
Samantha Miller has been named to the Saint Mary's College Dean's List for the Fall 2020 semester.
In Memoriam
Our prayers are with the families of the following deceased alumnae:
Helen Chambers Toomey '47
Susan Rose Gorman Fil '49
Patricia Lacey Coan '51
Collette Mary Casson Edwards '54
Theresa Kyne Robinson '72
Rosemary Riley '73, Sister of Kathleen Riley Pappas '65
Elizabeth Angela "Angel" McGrath '96
Our prayers are also with the following deceased family members of alumnae:
Lucia Capobianco, Mother of Maria Capobianco '85; Grandmother of Rosina Calandra '17 and Julia Calandra '19.
Blanca M. Mantilla, Mother of Deborah Mantilla Craven '80
Robert Langston McCloskey, Father of Christiane "Chris" McCloskey Le Claire '72, Siobhan "Shawny" McCloskey Burns '74, Karen McCloskey '75, Michele "Micky" McCloskey '75 and Ariane "Yony" McCloskey '77; Grandfather of Ariane Burns Gutierrez '04 and Kara Burns '07
Brenda Meyer, Mother of Bridget Meyer Forcier '77 and Siobhain Meyer Kandra '78
Patricia O'Brien Reynolds, Mother of Sharon Reynolds Stanton '78
Joan Gallagher Schoshinski, Mother of M. Claire Schoshinski Brier '81 and Maura Schoshinski Boyd '86
Alumnae Reunion News
Unfortunately, in order to ensure the safety and health of our wonderful alumnae, we will not be hostessing any on-campus reunions this year, including our beloved Upton Street Reunion and Mass. We will miss you all greatly, and look forward to when we can be together again soon!
If you would like to help organize a fun get-together just for your class, the Alumnae Office is happy to assist with planning. We can provide name and contact information lists, and suggest venues for your event, or help you organize a virtual event. Please contact Kathleen Bula in the alumnae office (301-929-6463 or kbula@academyoftheholycross.org) with any questions or ideas for your class get-together. Reconnect with old friends!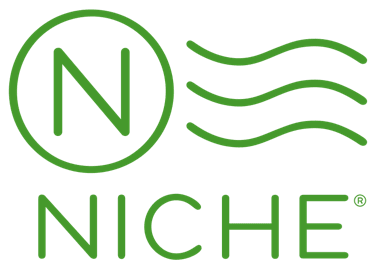 Review Holy Cross on Niche to Possibly Win $1,000
Many prospective families searching for high schools look at the reviews on Niche.com. Alumnae reviews help others to know your perspective. We invite our alumnae to leave a review to be entered for a chance to win $1,000!