The 2021 "Tartan Madness" Virtual Benefit Auction & Gala was a Huge Success!
Everyone on our "team" – sponsors, donors, bidders, and friends – contributed to our success. Special thanks to everyone who raised their virtual paddle…we raised over $50,000 (a new Holy Cross record!) for the Hope Scholarship Fund.
View the Tartan Madness Gala Program with parish ads here.
Thank you also to our outstanding Masters-of-Ceremony, Barbara Dobbs (Holy Cross Math Teacher) and Walter Gray (Varsity Basketball Coach). They made this year's Gala fun and entertaining.
Unable to join us that night? Watch the livestreamed event.
Distinguished Alumnae Awards and Athletic Hall of Fame Induction
Save the Date - Friday, May 7, 2021 at 7:00 pm (Virtual)
Please join us in congratulating this year's recipients of the Distinguished Alumnae Awards, as well as our 2021 inductees into the Holy Cross Athletic Hall of Fame. Please plan to join us virtually for a livestream of the awards presentation and the Hall of Fame induction ceremony on Friday, May 7, 2021 at 7:00 pm. Watch for the link to be sent closer to the event.
Distinguished Alumnae:
Helen Gleason White '59
Mary Joy Ellis Hurlburt '68
Paula Kirlew Grant '85
Athletic Hall of Fame:
Patricia Dillon '68, Outstanding Contributor to Lacrosse
Mary Jane Walton, Founding Coach of Tennis Program
Watch for additional information to come about these extraordinary alumnae and how to participate in honoring them.
Class of 1970 Finds Unique Way to Connect During the Pandemic
Members of the Class of 1970 were offered a unique way to stay connected during the pandemic when one of their classmates requested prayers as she was undergoing cancer treatment. Last December Marie Davis organized a weekly Zoom gathering to pray the rosary for their classmate and anyone in with special intentions. The group, who call themselves the "Rosary Girls," also appreciate the opportunity to connect socially during the weekly Zoom sessions.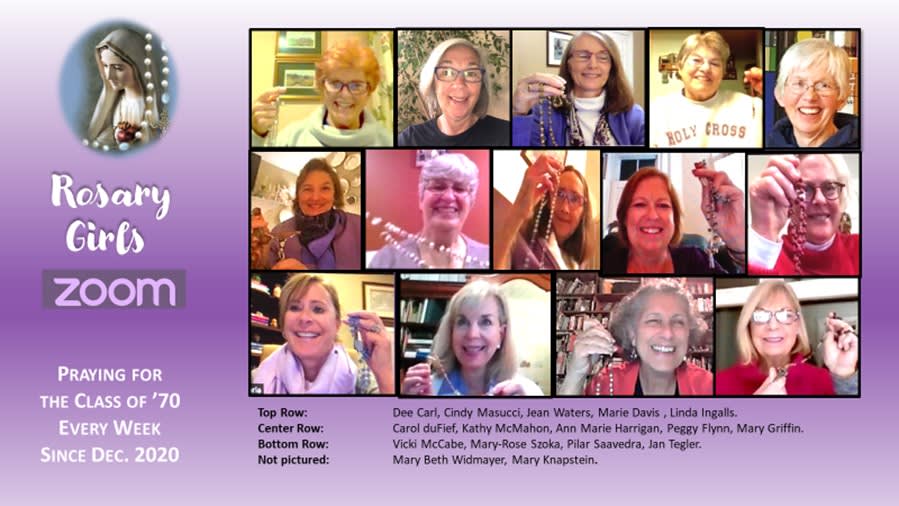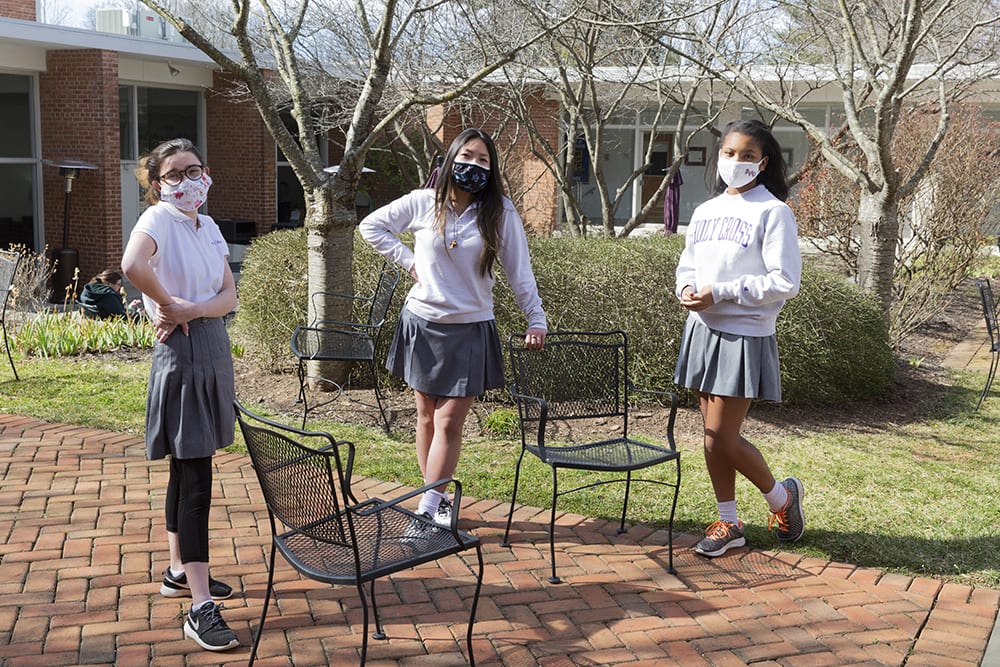 2020-21 Holy Cross Fund Update
Did a Leprechaun leave you a pot of gold last month? Consider a gift to the 2020-21 Holy Cross Fund! The annual Holy Cross Fund campaign runs from June 1 – May 31, and every dollar supports our students during the current academic year. Learn more about the Holy Cross Fund, and how you can make a difference by visiting the Holy Cross Fund page on the school's website.
Thank you to everyone who has supported the 2020-21 Holy Cross Fund – your donations allow us to make choices, not compromises!
Florence Sandbloom '22 Rides in Equestrian Finals
Florence Sandbloom '22 qualified for the Interscholastic Equestrian Association Zone 3 Finals that took place on Saturday, March 27 in Spotsylvania, VA— the first time a Holy Cross rider has qualified to compete in these finals. She competed against other top riders in Zone 3 and earned 6th place in the competition.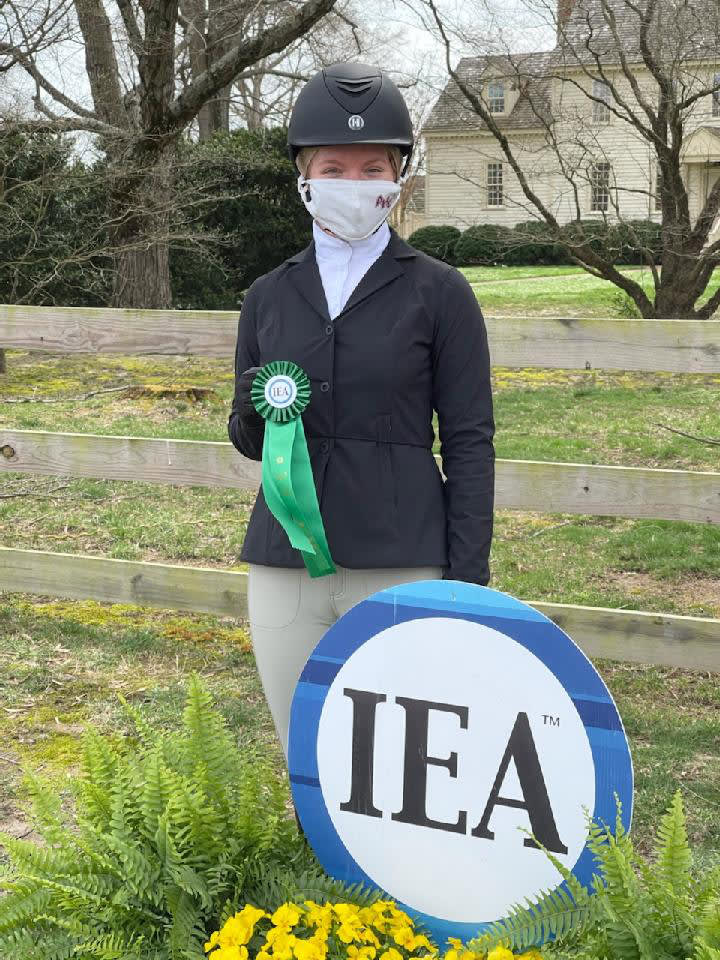 Lenore Martinez '76 Selected as Girls' Junior Golf Championship Honorary Starter
Holy Cross alumna and Golf Coach, Lenore Reilly Martinez '76, will be serving as the Honorary Starter of the 2021 U.S. Girls' Junior Championship, taking place July 12-17, 2021 at Columbia Country Club. As Honorary Starter Coach Martinez will lead a team in welcoming the players at the start of each round and will assist staff and officials in conducting the championship. Coach Martinez has a unique place in the history of golf at Columbia Country Club. Since 1993, she has won 19 Women's Club Championships—a record at Columbia. Lenore is also a tremendous supporter of junior golf and especially junior girls. In 2019 Holy Cross honored Coach Martinez as the Athletic Hall of Fame Coach of the Year.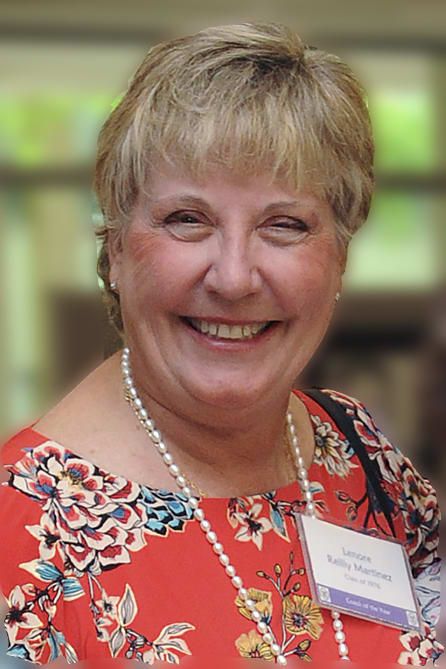 2021 Senior Project Sponsor Request
Since 1973 students have participated in the Senior Project internship – a unique opportunity for our seniors to work in a career setting that interests them. Seniors enjoy internships at numerous organizations and businesses in fields such as medicine, education, engineering, law, communications, marketing, social work, journalism, and many others.
Sadly, the pandemic caused Senior Project to be cancelled for the Class of 2020. This year, with continued uncertainty as to how businesses and lives will continue to be affected by COVID-19, Senior Project 2021 will include both traditional and remote internship opportunities. As businesses and organizations have all learned to adapt to a workplace including virtual formats, we are extending that opportunity to our seniors.
This exciting twist allows the Class of 2021 to reach out across the world wide web to connect to a sponsor who might share projects and opportunities remotely for completion of the Senior Project. This year's project timeline is from May 10-28, 2021.
Holy Cross relies on community sponsors to provide internships for our seniors. An alumna makes a great sponsor! We are always seeking potential sites for our students. This year especially, if you are outside the DMV area and would like to be a part of this wonderful tradition, please let us know. If you are interested in sponsoring one of our seniors, please contact Marissa Mills, Senior Project Coordinator, at mmills@academyoftheholycross.org or (301) 929-6444.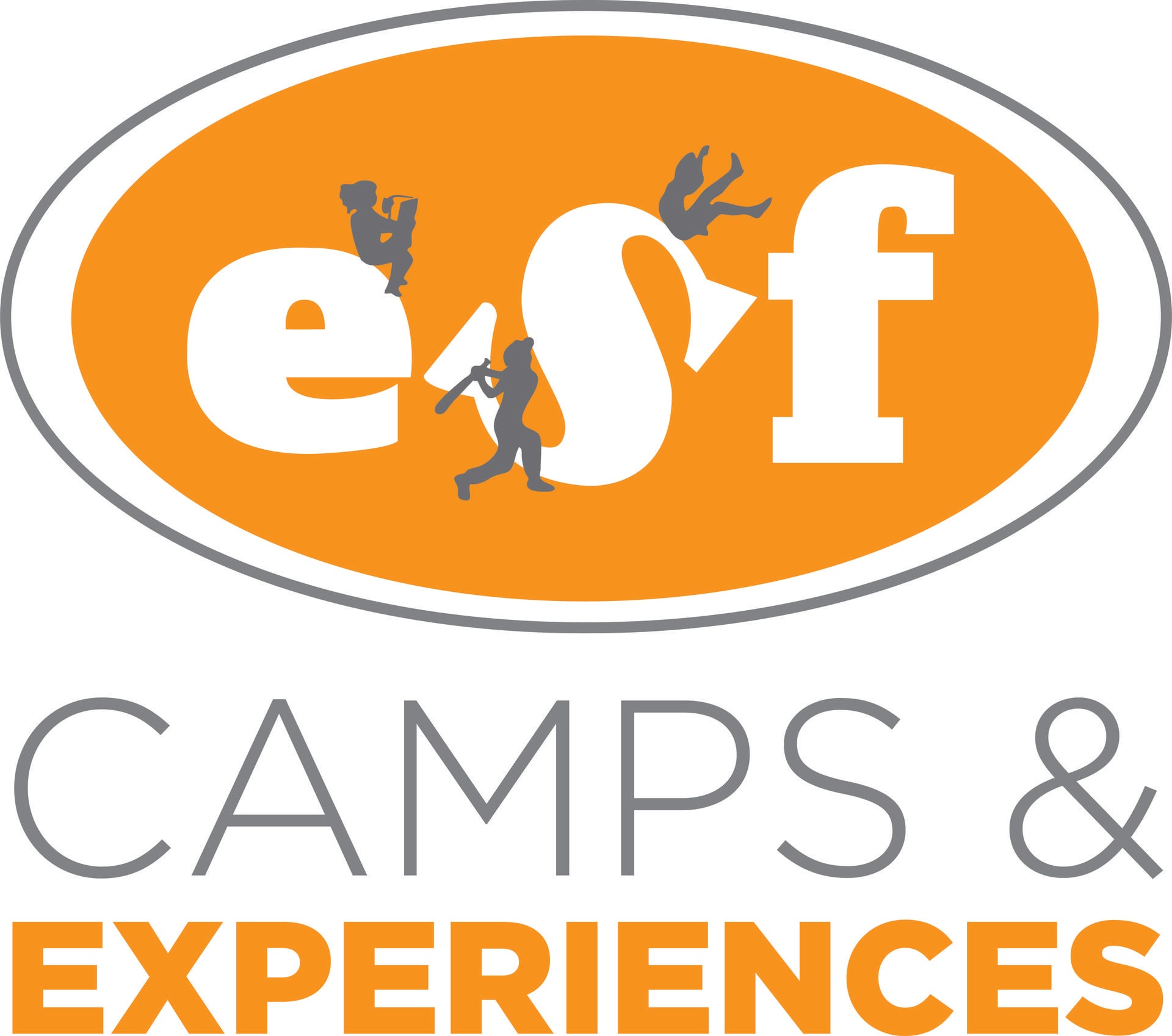 Are you looking for the best summer job ever...
And a chance to return to The Academy of the Holy Cross campus? Our new summer camp partner, ESF Camps & Experiences, is looking for energetic, creative and outgoing individuals who want to teach, mentor and coach children (ages 3-15) mid-June through mid-August. This fun and rewarding experience offers a great schedule, professional networking and resume building, and internship opportunities. Learn more about becoming a counselor, coach, lifeguard or teacher at esfcamps.com/Bethesda and then apply at esfjobs.com to join the team!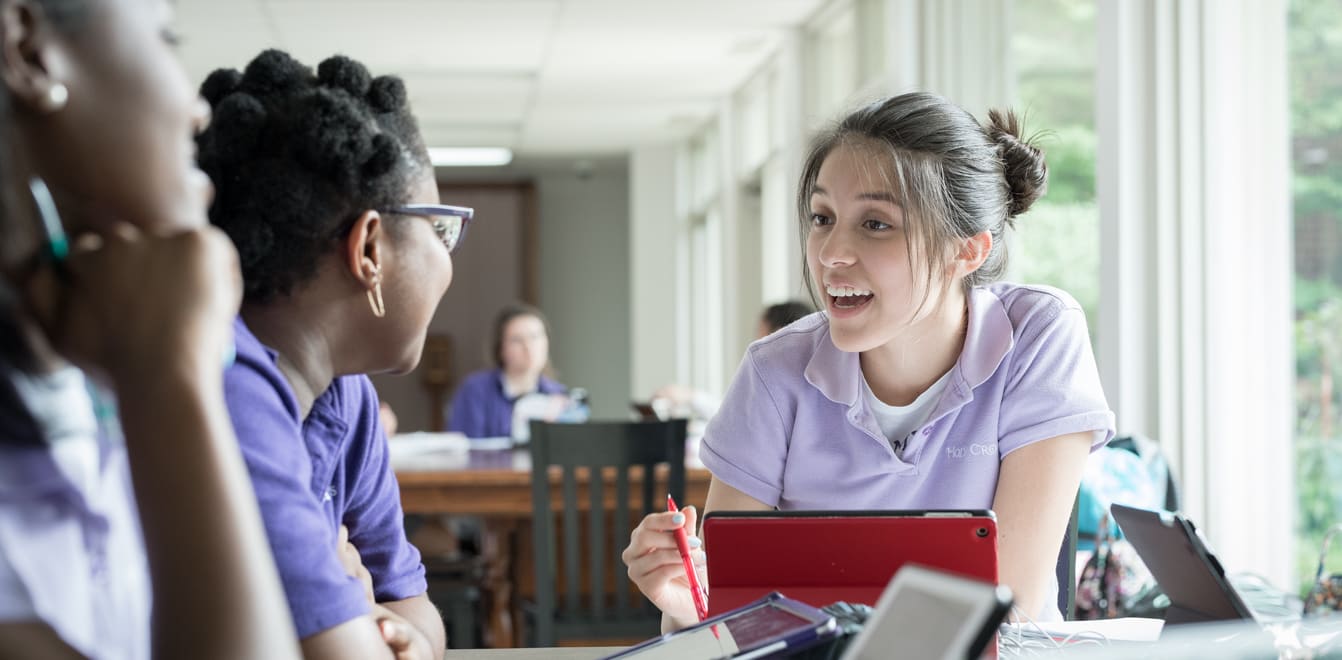 Join the Legacy Circle
The Legacy Circle was established to honor those who have remembered Holy Cross by bequest or other estate plans. Information is available on our website https://www.academyoftheholycross.org/support/planned-giving or contact Charly Ryan in the Advancement Office (301-929 6447 or cryan@academyoftheholycross.org).
Members of the Legacy Circle will enjoy the following benefits:
Special invitations to school events

Legacy Circle Newsletters (twice a year)

Your name listed in the alumnae prayer book

Your name included on the website and in our Annual Report in perpetuity

Invitation to the annual Legacy Circle mass and luncheon
Thank you for considering a gift to Holy Cross when making your estate plans.
Tartan Roll Call!
In this time of virtual communications, it is more important than ever that we have your correct contact information. Please take a moment to make sure that we have your current phone number(s), and email and street addresses. We love to hear from our alumnae!
Do you have some good news to share with your classmates? We want to hear from you! Let us know about your weddings, babies, travels, awards, job changes, etc., and we will include your news, if you wish, in our monthly Alumnae eNewsletter and in the Alumnae Class Notes section of an upcoming Tartan magazine. Email your updates and pictures (high-resolution JPEG format) to alumnae@academyoftheholycross.org.
Alumnae News
1996
Callum Flavos Simon son of Nadia Lubbe Simon and Jay Simon was born on September 8, 2020. His big brothers Luca and Derek are over the moon to have another brother in the family and baby Callum is as sweet as can be!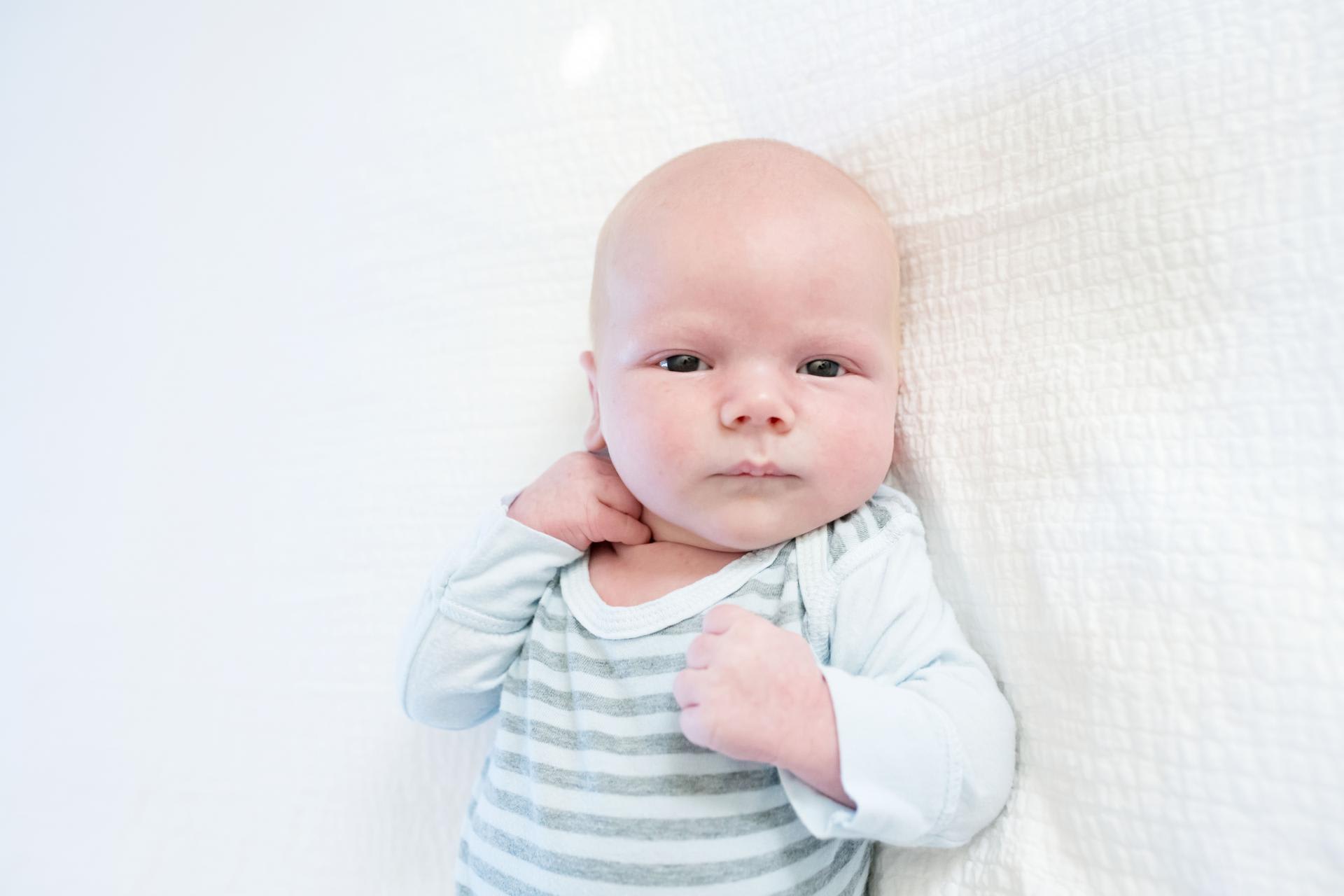 2005
Brighid McGann Helms and Scott Helms welcomed their first child, Bernadette Marie Helms, on February 11, 2021. Bernadette loves meeting her "aunts" from the Class of 2005 and can't wait to visit the school herself someday!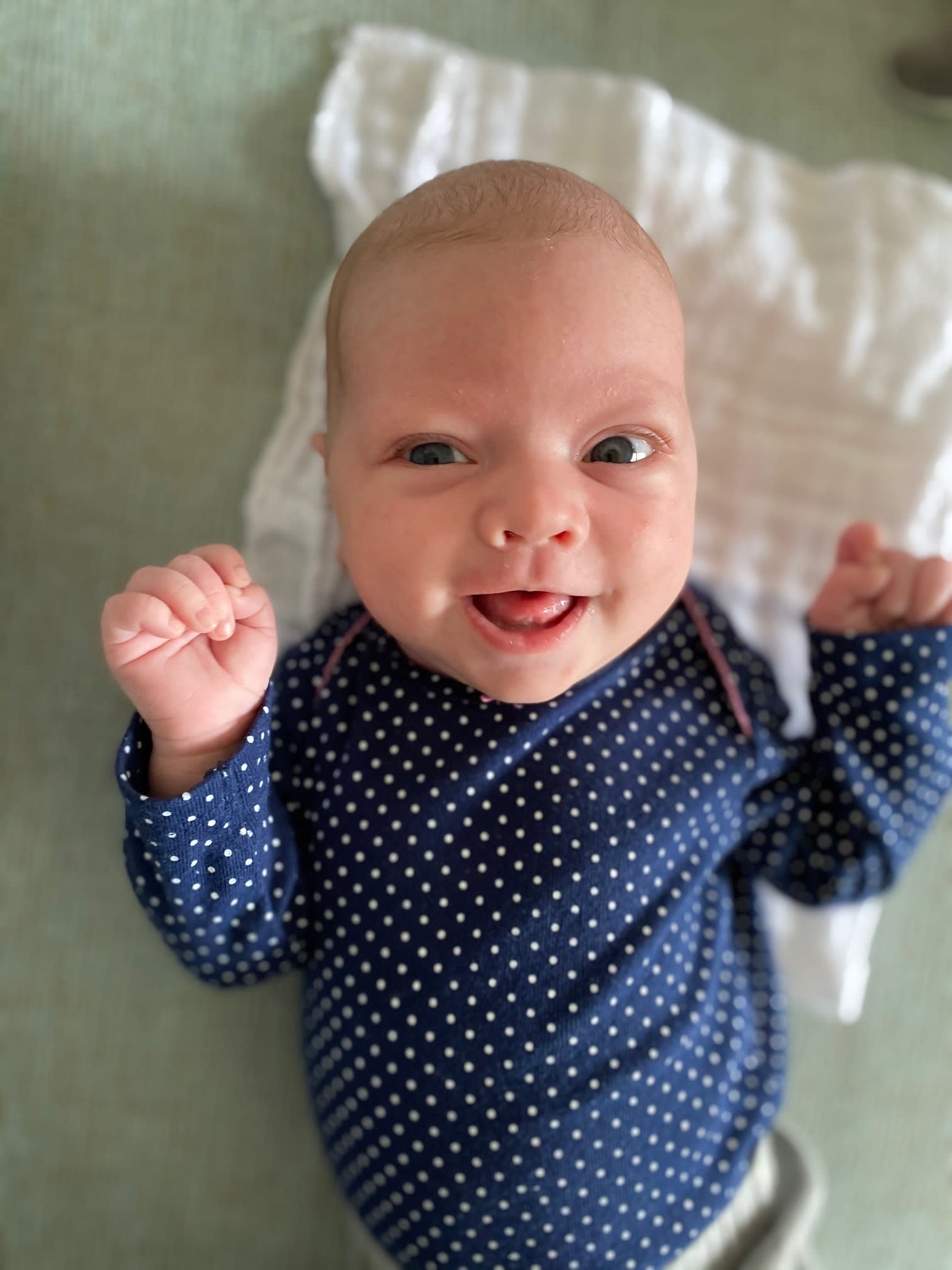 2009
Dr. Edward Movius, Father of Christine Sanderson-Movius recently published Dr. Goldilocks and the Three Bears Fight COVID-19, a helpful children's book about the pandemic. The book is available on Amazon and other booksellers.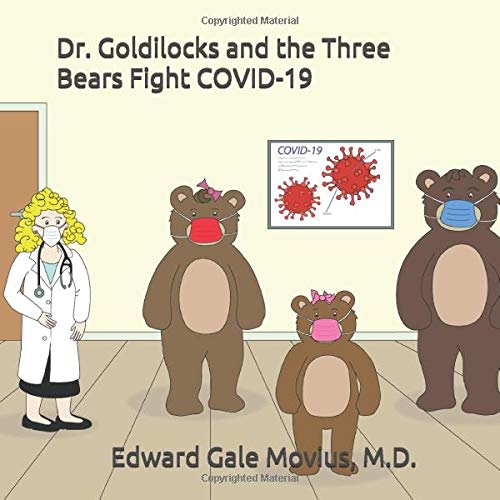 2015
Congratulations to Courtney Marie Hogan on being selected the 2021-22 editor-in-chief for the Georgia Law Review at the University of Georgia School of Law.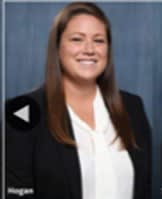 2017
Emma Falkenstein was inducted into Hai Timiai, the senior honor society for William Smith College (of Hobart and William Smith Colleges), on March 1, 2021. The society was founded in 1953, and its name is the Greek for "Honored Women." Inductees are chosen by current members and the college Deans to represent the many outstanding young women studying at William Smith. Emma is double majoring in International Relations and Anthropology. After graduation, Emma plans to pursue a Master of Science in Urbanization and Development from the London School of Economics and Political Science.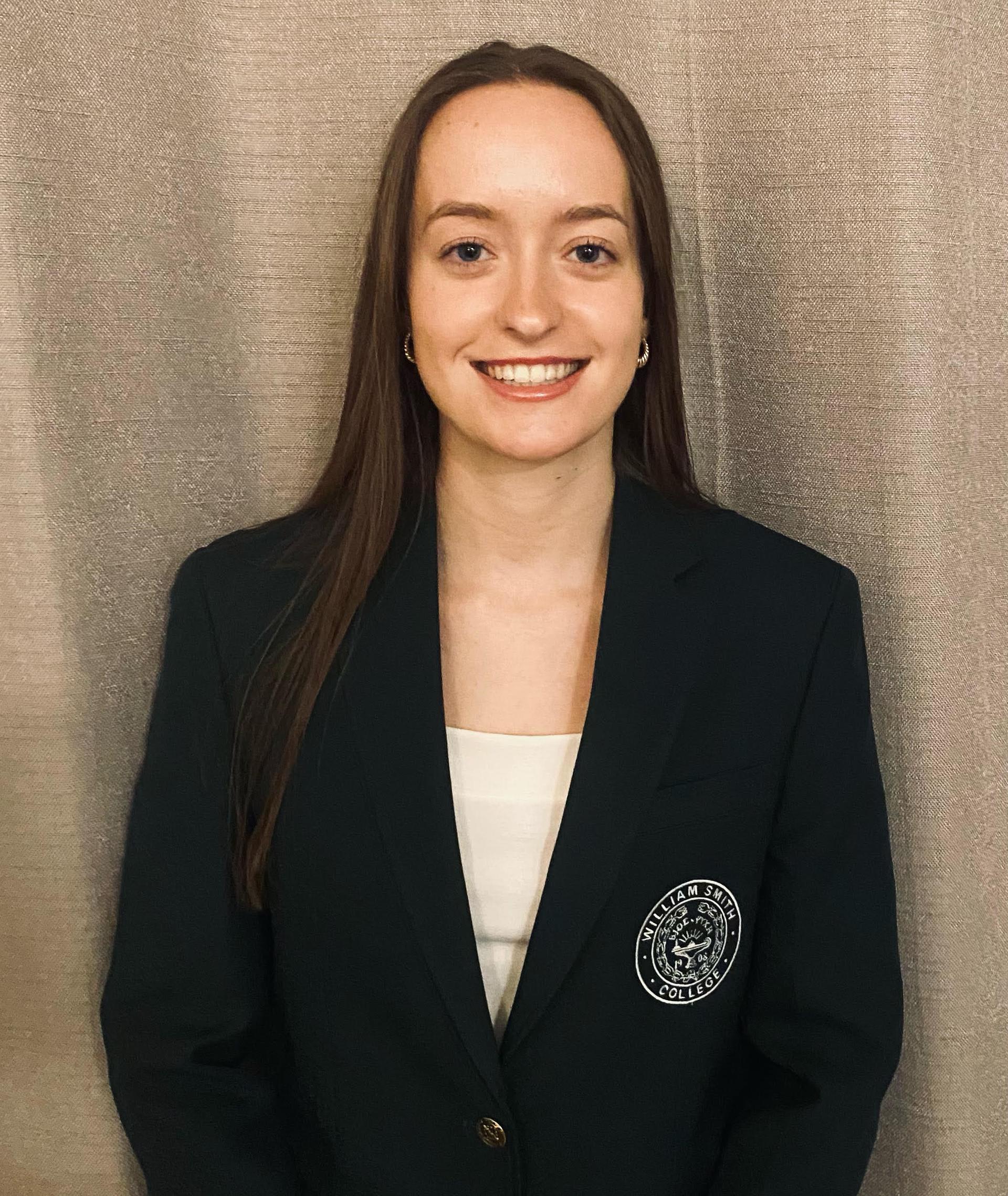 In Memoriam
Our prayers are with the following deceased family member of alumnae:
Eugene Nicholas Kakalec, Jr., Father of Pamela Kakalec '04, Catherine Kakalec '10 and Erin Kakalec '13
Alumnae Reunion News
Unfortunately, in order to ensure the safety and health of our wonderful alumnae, we will not be hostessing any on-campus reunions this year. We will miss you all greatly, and look forward to when we can be together again soon!
If you would like to help organize a fun get-together just for your class, the Alumnae Office is happy to assist with planning. We can provide name and contact information lists, and suggest venues for your event, or help you organize a virtual event. Please contact Kathleen Bula in the alumnae office (301-929-6463 or kbula@academyoftheholycross.org) with any questions or ideas for your class get-together. Reconnect with old friends!
Class of 1971
Stay tuned for information about a "virtual" Happy Hour and further celebrations of your 50th anniversary.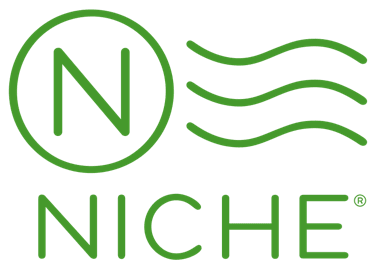 Review Holy Cross on Niche to Possibly Win $1,000
Many prospective families searching for high schools look at the reviews on Niche.com. Alumnae reviews help others to know your perspective. We invite our alumnae to leave a review to be entered for a chance to win $1,000!