The entire Holy Cross community is praying for our alumnae in Texas and throughout the South that have suffered the devastating effects of late February's winter storms. Your safety, and that of your loved ones, is on our minds and hearts.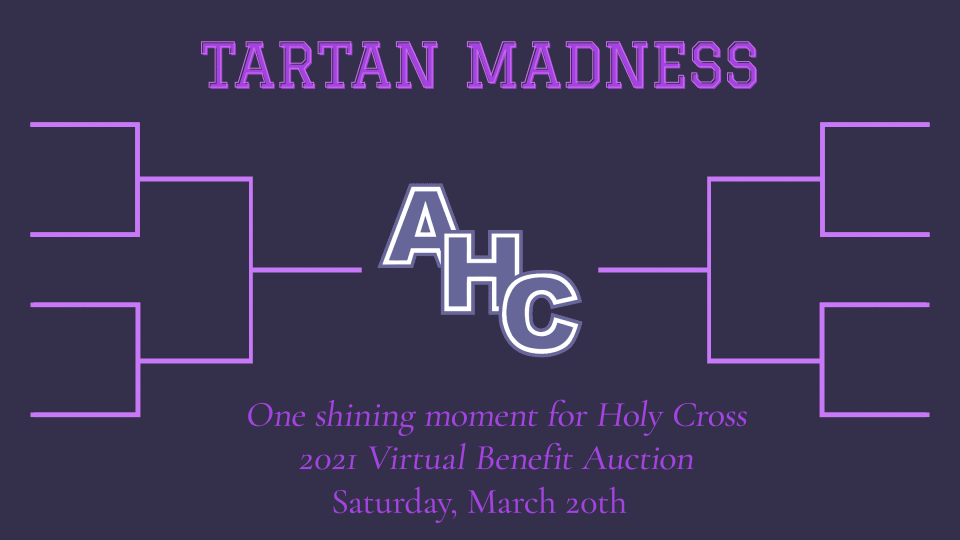 It's Game Time!
The 2021 "Tartan Madness" Benefit Auction is right around the corner. Are you ready?!
Here's the Game Plan:
TICKETS AVAILABLE NOW. Support the Tartan team and purchase your tickets today! If you're local go for a VIP Party Pack - it's a party in a box!
50/50 Raffle ticket. The more we sell, the more you win. You can't win if you don't play!
Donate. Support a local business and Holy Cross. Purchase a gift card from a local business and donate to the auction...that's a win-win!
Check out our Amazon wish list. If you aren't sure what to donate we have done the work for you. It's a slam dunk!
Purchase your Parish Ad. Represent your Parish team!

Remember the benefit auction is Holy Cross's biggest fundraising event of the year - we need your support!
Go Team Tartan!
Virtual Alumnae Memorial Mass

Our annual Alumnae Memorial Mass was held on Sunday, February 28 in The Academy of the Holy Cross Moreau Chapel. The virtual Mass is available on the Holy Cross YouTube Channel. We remembered alumnae, former faculty/staff, and Holy Cross community family members who have passed away this last year.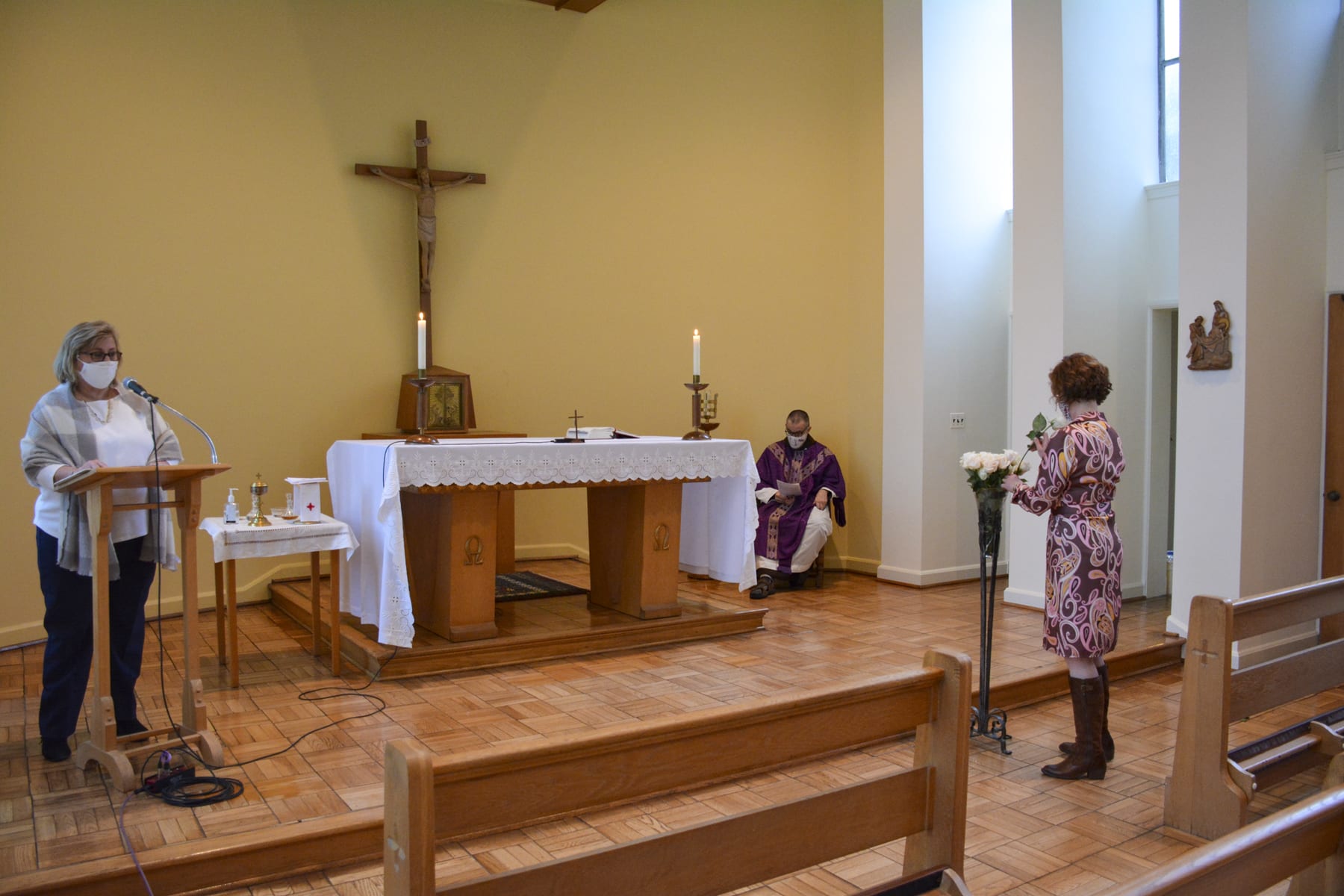 Distinguished Alumnae Awards and Athletic Hall of Fame Induction
Save the Date - Friday, May 7, 2021 at 7:00 pm (Virtual)
Distinguished Alumnae:
Helen Gleason White '59
Mary Joy Ellis Hurlburt '68
Paula Kirlew Grant '85
Athletic Hall of Fame:
Patricia Dillon '68, alumna and former lacrosse coach
Mary Jane Walton, former tennis coach and substitute teacher
Watch for additional information to come about these extraordinary alumnae and how to participate in honoring them.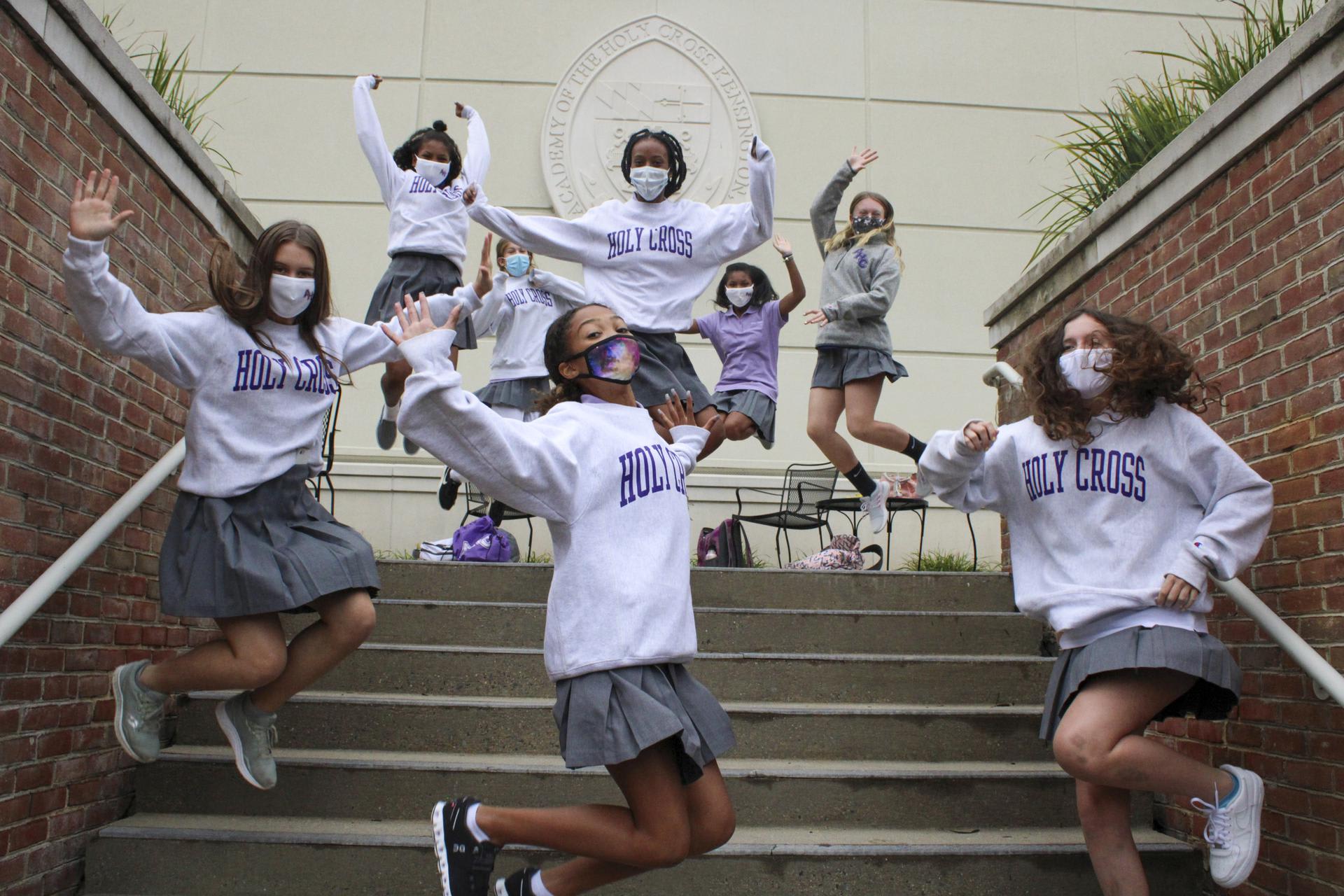 2020-21 Holy Cross Fund Update
What's a quick and easy way to increase your donation? Ask your employer if they have a matching gifts program! Many employers will match part or all of an employee's charitable donations, helping your philanthropic dollars to have even more impact. Every donation to the 2020-21 Holy Cross Fund benefits our students during the current academic year, and allows us to meet our most crucial needs. Read the Holy Cross Fund FAQ to learn more about how your donation makes a difference!
Kairos 92 Continues to Live the Fourth!
Holy Cross continues to celebrate faith through the Kairos retreat. Kairos this year is taking place twice on campus and does not include the overnight component in order to keep everyone safe. The second and final Kairos of this school year is March 9-12. Please pray for our Tartans as they embark on this important tradition (the list of those attending is found at this link: Kairos 92 List of Attendees). If you know any student attending and would like to support them with a Kairos letter, please email any letters to kairos@academyoftheholycross.org by March 8th. If you have any questions, please contact Mrs. Linda Ruszkowski at lruszkowski@academyoftheholycross.org.
2021 Senior Project Sponsor Request
Since 1973 students have participated in the Senior Project internship – a unique opportunity for our seniors to work in a career setting that interests them. Seniors enjoy internships at numerous organizations and businesses in fields such as medicine, education, engineering, law, communications, marketing, social work, journalism, and many others.
Sadly, the pandemic caused Senior Project to be cancelled for the Class of 2020. This year, with continued uncertainty as to how businesses and lives will continue to be affected by COVID-19, Senior Project 2021 will include both traditional and remote internship opportunities. As businesses and organizations have all learned to adapt to a workplace including virtual formats, we are extending that opportunity to our seniors.
This exciting twist allows the Class of 2021 to reach out across the world wide web to connect to a sponsor who might share projects and opportunities remotely for completion of the Senior Project. This year's project timeline is from May 10-28, 2021.
Holy Cross relies on community sponsors to provide internships for our seniors. An alumna makes a great sponsor! We are always seeking potential sites for our students. This year especially, if you are outside the DMV area and would like to be a part of this wonderful tradition, please let us know. If you are interested in sponsoring one of our seniors, please contact Marissa Mills, Senior Project Coordinator, at mmills@academyoftheholycross.org or (301) 929-6444.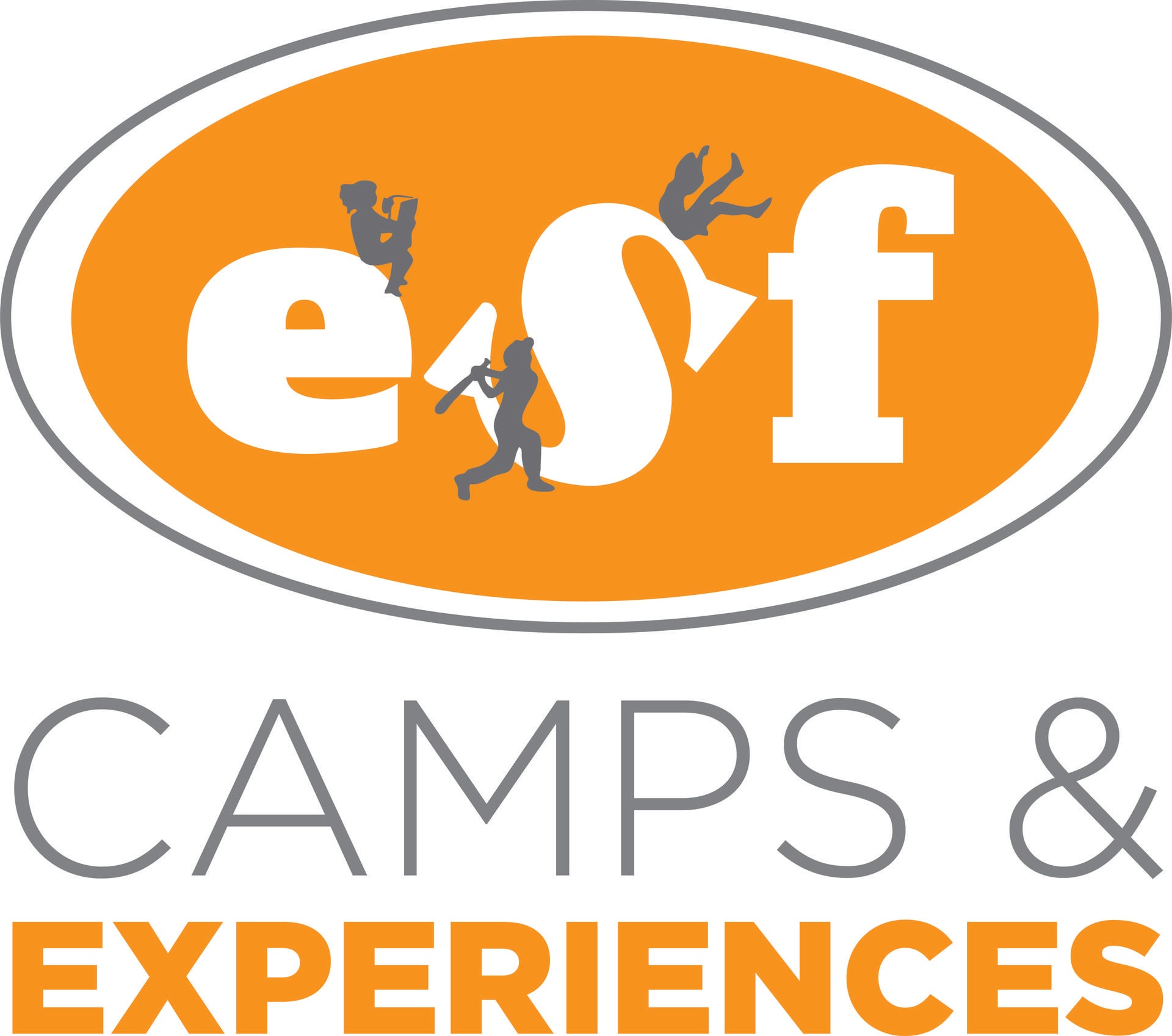 Are you looking for the best summer job ever...
And a chance to return to The Academy of the Holy Cross campus? Our new summer camp partner, ESF Camps & Experiences, is looking for energetic, creative and outgoing individuals who want to teach, mentor and coach children (ages 3-15) mid-June through mid-August. This fun and rewarding experience offers a great schedule, professional networking and resume building, and internship opportunities. Learn more about becoming a counselor, coach, lifeguard or teacher at esfcamps.com/Bethesda and then apply at esfjobs.com to join the team!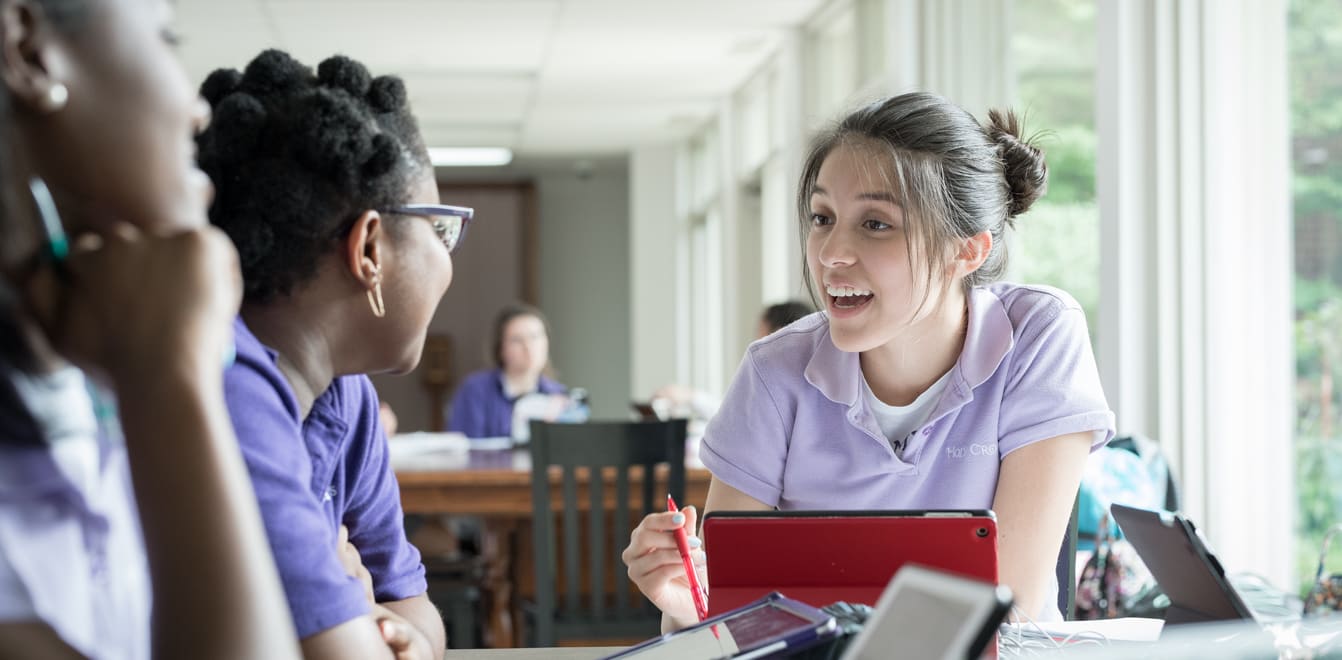 Join the Legacy Circle
The Legacy Circle was established to honor those who have remembered Holy Cross by bequest or other estate plans. Information is available on our website https://www.academyoftheholycross.org/support/planned-giving or contact Charly Ryan in the Advancement Office (301-929 6447 or cryan@academyoftheholycross.org).
Members of the Legacy Circle will enjoy the following benefits:
Special invitations to school events

Legacy Circle Newsletters (twice a year)

Your name listed in the alumnae prayer book

Your name included on the website and in our Annual Report in perpetuity

Invitation to the annual Legacy Circle mass and luncheon
Thank you for considering a gift to Holy Cross when making your estate plans.
Summer Internship Opportunity
Catholic Charities DC 2021 summer internship program (May 25-August 6) is open to students currently enrolled in a bachelor's degree program. Applications are due by Sunday, March 28. Apply online at Catholic Charities Summer Intern.
Internships are available in the following programs and fields:
∙ Development and Communications
∙ Dental Services
∙ Housing and Homeless Services
∙ Social Work
∙ Public Health
∙ Volunteer Engagement and Management


Interns will develop a broad set of work skills in a professional setting and have opportunities for:
∙ Reflection on the internship experience
∙ Networking and personal development
∙ Cohort building activities with other interns
∙ Professional development through interaction with leaders of Catholic Charities
For questions or additional information contact Claire Sanfilippo, Volunteer Manager (Events and Communication) at Catholic Charities of the Archdiocese of Washington,
claire.sanfilippo@cc-dc.org, (office) 202-772-4300 ext. 209, (cell) 440-799-1207.
Tartan Roll Call!
In this time of virtual communications, it is more important than ever that we have your correct contact information. Please take a moment to make sure that we have your current phone number(s), and email and street addresses. We love to hear from our alumnae!
Do you have some good news to share with your classmates? We want to hear from you! Let us know about your weddings, babies, travels, awards, job changes, etc., and we will include your news, if you wish, in our monthly Alumnae eNewsletter and in the Alumnae Class Notes section of an upcoming Tartan magazine. Email your updates and pictures (high-resolution JPEG format) to alumnae@academyoftheholycross.org.
Monica McNutt '07 Featured in The Washington Post
"I say to folks that I hope I am remembered for being prepared, having great energy and a great shade of lipstick," said Monica McNutt '07 in an article posted on The Washington Post's DC Sports Blog. Titled "Monica McNutt's rapid rise at ESPN continues with 'Around the Horn' debut," the feature details Monica's recent accomplishments in addition to appearing on ESPN including her work as ACC Network host and analyst and appearing on "SportsCenter."
As a student at Holy Cross, Monica was a champion basketball player, helping the Tartans to a WCAC and City Championship. In 2014 she was the keynote speaker for the Black History Month program.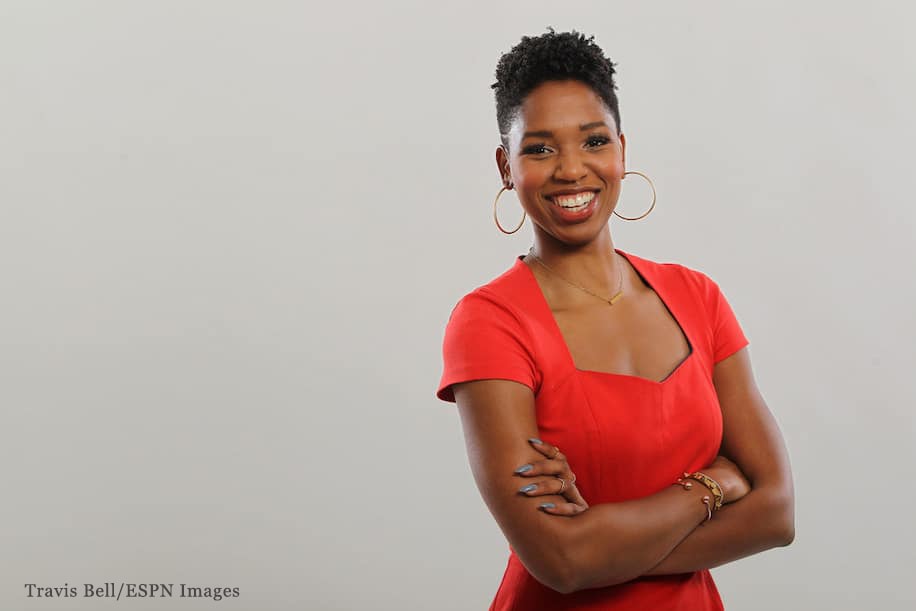 Alumnae Bring Care for Kids to College Campus
Sofie Leusch '19 and Dulmi Ratnasiri '19 helped to bring the Care for Kids Club to Holy Cross when they were juniors. The members of this club would collect small gifts to be delivered to the Children's Inn at NIH in Bethesda. Now as students at the University of Maryland, College Park, they have brought the Care for Kids efforts to their college campus. This past fall, with good pandemic protocols in place, they accepted donations to raise nearly $2,500 for books, games, craft kits, toys, socks, bath essentials, candy and much more! The deliveries were made in time for the Christmas holidays at the Children's Inn—bringing cheer at a time that can be especially difficult.
Sofie, a neuroscience major, and Dulmi, a biological science major, look forward to growing this compassionate cause at UMD.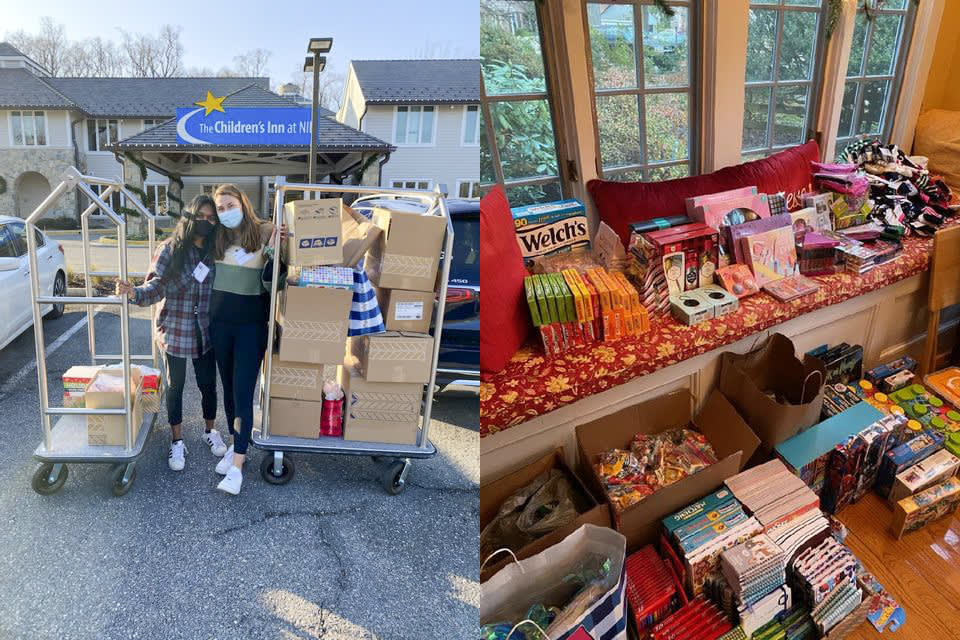 Onyx Club Black History Month Presentation
The theme of the 2021 Black History Month assembly presented on Wednesday, February 10 by the Holy Cross Onyx Club was Justice, Equality and Unity. The video presentation began with a brief history about Black History Month. The officers of the club shared the biographies of three Black women who represented the assembly's theme. Faith Kelly '21 performed an original dance which she choreographed to the song "Stand Up" performed by Cynthia Erivo. Katiushka Howell '22 sang the closing song, "He's Got the Whole World in His Hands." The special guest speaker was Stephanie Sprow Owens '00. Stephanie is the Director of Student and Community Engagement, Reach Higher at Common App. In that role, she leads former First Lady Michelle Obama's initiative to increase diversity, access, and equity in higher education for first generation, low-income, and minority students.
Alumnae News
1972
After graduation from Holy Cross, Christine Brown attended Norte Dame College of Maryland in Baltimore. After graduating in 1976 (yes, the Bicentennial), Christine worked with Dick Ridgway's real estate settlement law firm in Rockville - Fitzgerald & Ridgway. This launched her lifelong career in various real estate businesses from settlements, to real estate finance and mortgage insurance. During her career, she lived in San Francisco, Chicago and Toronto before retiring from Radian Mortgage Insurance in 2019. During the pandemic, she received her real estate license and is currently with Benson and Mangold Real Estate in Easton, Maryland. "Keep in touch and if you find yourself coming over the Bay Bridge, give me a call!"
2001
Tatiana Posada Callaway and her husband, Paul, write that Harrison James Callaway was born on January 26, 2021. "We are so happy to start our family with our little one."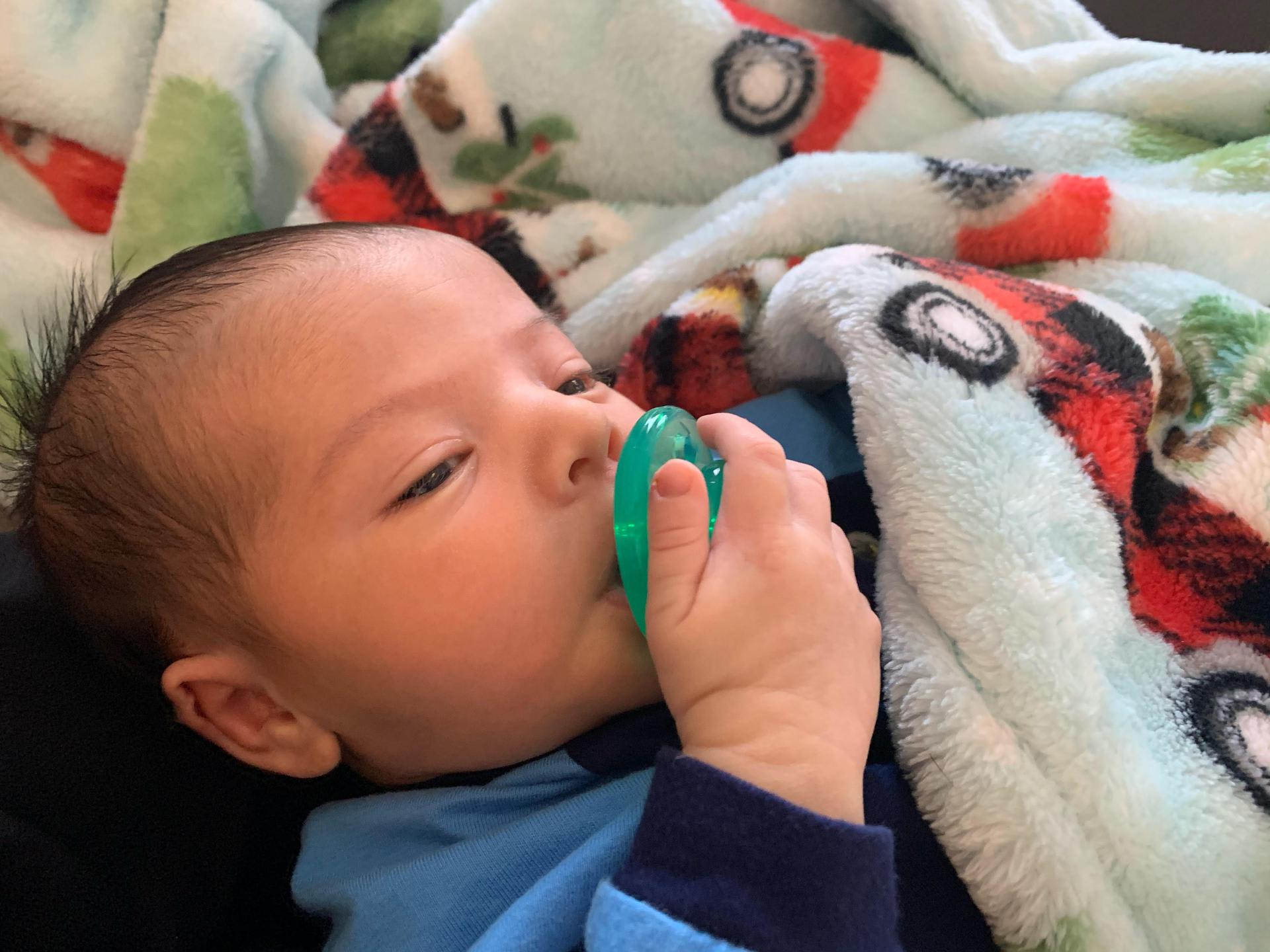 2007
Kristen Coleman McDaniel and her family welcomed a new baby girl, Finley Grace McDaniel, on February 16, 2021.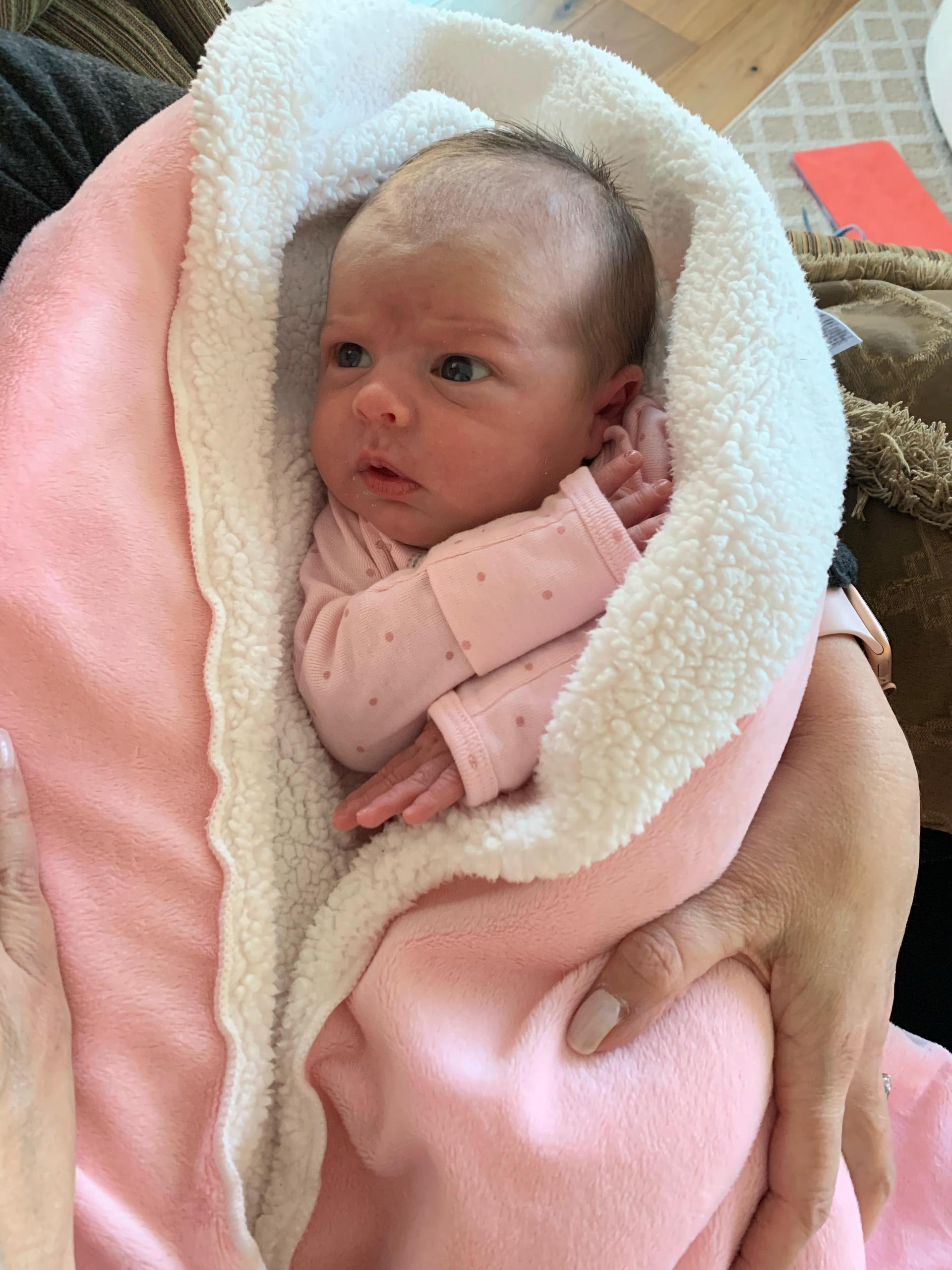 After college Sarah Wimsatt Rehman discovered yoga as a way to bring healing to herself and others. In 2017 she opened Flying Buddha, a small aerial yoga home studio and grew her following. Sarah opened a full-blown commercial space in 2019. Today Flying Buddha Studio is a growing movement and wellness studio located in Gaithersburg, MD that includes the only aerial yoga, aerial arts, yoga rope wall, and soon to be bungee fitness programs in the area. In addition to being a small business owner, Sarah has been married for four years and has three daughters: Bella, Maddy, and Eliza.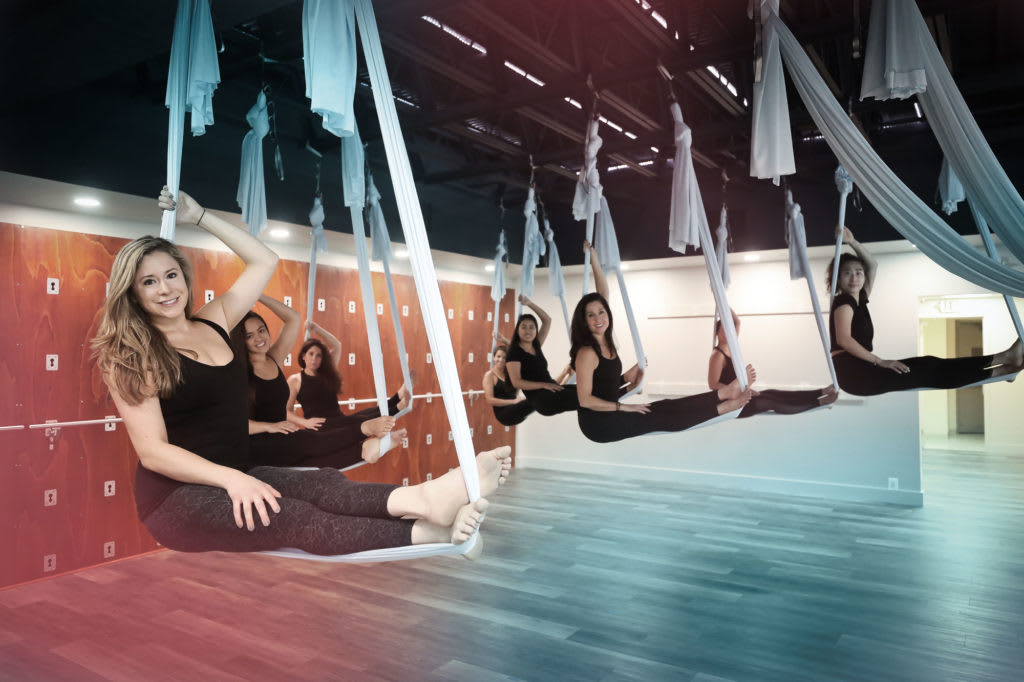 2013
Brittany Virginia Scala has received her master's degree in liberal arts from Johns Hopkins University (JHU). While enrolled in the JHU Graduate Program, Brittany was also presented a Fellowship Award. Brittany continues her career at the Master Charter Harrity Upper School in Philadelphia, PA where she is a Case Manager for students with special needs and also teaches Math Intervention. Brittany has completed her certification for teaching math grades 7-12 and Art Certification for Pre-K-12.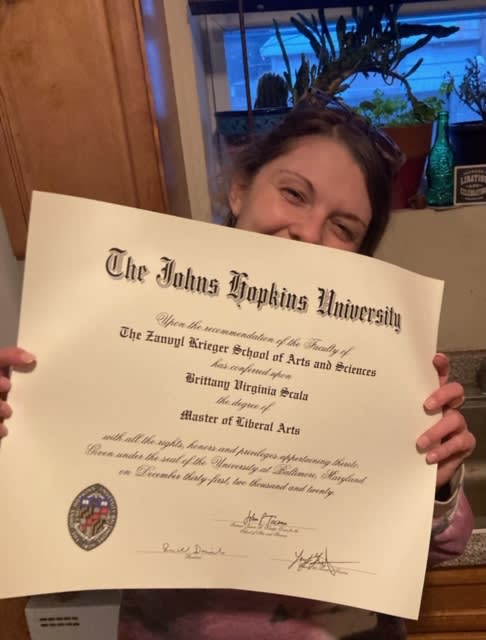 In Memoriam
Our prayers are with the families of the following deceased alumnae:
Joyce W. Libert '63
Sandra Lee Porter Perrin '76
Lisa Maria Barnard Dickinson '83
Our prayers are also with the following deceased family members of alumnae:
Simon McNabb, Father of Eva McNabb '17
Helen Gerhaeusser Zmuda (Former Faculty/Staff), Mother of Roberta Zmuda Greenspan '73; Mother-in-law of Kathleen Knopf Zmuda '76; Grandmother of Jacqueline Zmuda '00; Aunt of Maurya Zmuda Sorter '82 and Deirdre Zmuda '85; and Great Aunt of Tori Sorter '18
Alumnae Reunion News
Unfortunately, in order to ensure the safety and health of our wonderful alumnae, we will not be hostessing any on-campus reunions this year. We will miss you all greatly, and look forward to when we can be together again soon!
If you would like to help organize a fun get-together just for your class, the Alumnae Office is happy to assist with planning. We can provide name and contact information lists, and suggest venues for your event, or help you organize a virtual event. Please contact Kathleen Bula in the alumnae office (301-929-6463 or kbula@academyoftheholycross.org) with any questions or ideas for your class get-together. Reconnect with old friends!
Class of 1971
Stay tuned for information about a "virtual" Happy Hour and further celebrations of your 50th anniversary.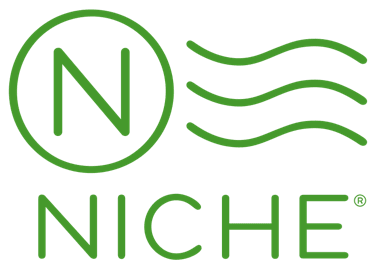 Review Holy Cross on Niche to Possibly Win $1,000
Many prospective families searching for high schools look at the reviews on Niche.com. Alumnae reviews help others to know your perspective. We invite our alumnae to leave a review to be entered for a chance to win $1,000!